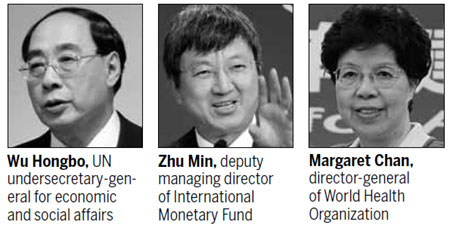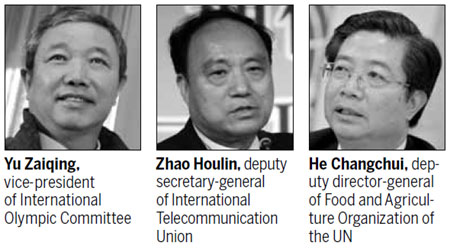 Click here to read this at China Daily:
http://www.chinadaily.com.cn/cndy/2012-08/08/content_15651073.htm
More Chinese than ever are holding key positions in international organizations in recent years, broadening developing countries' influence on the world stage.
The latest example is Wu Hongbo, former Chinese ambassador to Germany, who was appointed in late May as undersecretary-general for economics and social affairs in the United Nations, replacing Sha Zukang, another Chinese official. Sha had held the position since February 2007.
Before Wu and Sha, Chen Jian was undersecretary-general for General Assembly Affairs and Conference Service of the UN from 2001 to 2007.
Undersecretary-general is the highest position in the UN that can be held by a Chinese citizen, as there is a rule that the UN secretary-general cannot come from the five permanent members of the UN Security Council.
The changes in their areas of responsibility reflect the rise of China's national strength and international influence, said Zhang Yi, deputy director of the Secretariat of the United Nations Association of China.
Chinese officials bring to the table their experience in economic development and addressing the needs of a developing country, adding to the variety and efficiency of international organizations, Zhang said.
In recent years, more Chinese officials have held key positions at international organizations.
In 2011, Zhu Min became the first Chinese to hold the position of deputy managing director of the International Monetary Fund, and Justin Yifu Lin just concluded a four-year term as World Bank chief economist and senior vice-president in June.
Statistics from the UN show that in 2011 China contributed $74.9 million to the organization's annual budget - the eighth most among the 193 UN members.
China currently has less than 500 staff at the UN Secretariat, which is the fewest among the five permanent members of the UN Security Council and fewer than UN members such as Pakistan and Japan, Zhang told China Daily.
The number of UN staff allowed for each member country is determined using a formula that includes demographics and GDP, with budget contributions being a decisive factor.
Holding key positions at international organizations "increases China's voice on the world stage and helps China win more rights in international organizations", said Jin Canrong, deputy dean of the School of International Studies at Renmin University of China.
With the exception of Margaret Chan, director-general of the World Health Organization from Hong Kong, and Wu Jianmin, who was elected president of the International Exhibitions Bureau in 2003, Jin noted that the total number of Chinese officials in decision-making positions at international organizations still lags behind other countries such as India and Japan.
"The increase in the number of high-level Chinese officials in international organizations cannot match the growth of China's national strength, which is likely to harm China's national interests in future, as China contributes an increasing amount of money to these international organizations but still lacks power in decision making," Jin said.
"A country's international position is not only reflected by its own national strength, but also the degree of acceptance by the world," Jin said. "One of the indicators is its participation in international organizations."
The largest difficulty for Chinese citizens working in international organizations is cultural differences, Zhang said. Chinese are used to keeping a low profile and are more concerned with the collective honor of a group, while their Western counterparts are aggressive and highlight personal values, Zhang said. Zhang and Jin said most Chinese staff at international organizations are placed in low-level positions.
The inability to master multiple languages also keeps most Chinese from standing out in the competition to become an international civil servant, Jin said. "Some government departments, which have talents fit for the requirements of international organizations, should let them go instead of hanging on to them," Jin said.
China urgently needs to train more qualified professionals as reserve forces to work in international organizations, Zhang said.
In 2011, the United Nations Association of China and the department of international cooperation at the Ministry of Human Resources and Social Security began co-hosting a training program for international civil servants.
Sponsored by China Ocean Shipping Company, the program has had more than 200 participants in the last two years, mostly university students.
The eight-day program includes an introduction to the UN system, major international issues and lectures by professors and diplomats.
Zhao Liang, 21, participated in the program in 2011. She received an internship with the United Nations Development Programme in China from February to June.
"I hope I can work for the UN in the future, after working at other places and accumulating enough experience to meet the high standards required by the UN," she told China Daily.
Zhao said she will represent China's views and positions when working for an international organization, even though international civil servants are not designated according to a person's home country.
Zhao, who graduated from Renmin University of China this summer, will soon go to the United States to continue her studies in politics.
"I hope this training program will become the starting point of your dreams and a cradle of backup talents for international civil servants from China," Chen, who is president of the UN Association of China, wrote in a foreword for the training program's 2011 student brochure. "It is also expected to help enhance China's capacity in participating in global governance and increase the interest and level of study in international organizations in China," Chen wrote.
chengguangjin@chinadaily.com.cn
Click here to read this at China Daily:
http://www.chinadaily.com.cn/cndy/2012-08/08/content_15651073.htm